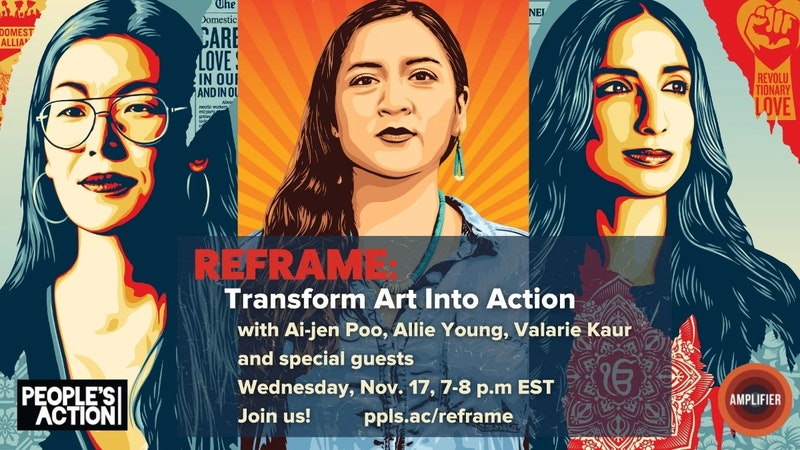 It's time to renew our common missions, with visionary leadership to reaffirm our common values. it's time to REFRAME!
Join Ai-jen Poo, Executive Director of the National Domestic Workers Alliance, Allie Young, founder of Protect the Sacred, and Valarie Kaur, who leads the Revolutionary Love Project and special guests to talk about the values that inspire their work as organizers, which can inspire us all.
Ai-jen, Allie and Valarie are three of the trailblazers featured in Amplifier Art's new REFRAME series, which features artwork developed by Shepard Fairey, LMNOPI, Noa Denmon and Ernesto Yerena, and curricula for middle and high school students developed by educators.
The series also features Common, Sister Simone Campbell, Warren Tidwell, Renee DiResta, adrienne maree brown, Lizbeth Mateo, MariaElena Fournier, Larry Ginter and Patrisse Cullors.
This REFRAME event is cohosted and coproduced by Amplifier Art and People's Action.
The FIRST 100 PEOPLE who register will receive 1 LIMITED EDITION poster of the REFRAME icon of their choice designed by these artists:
LMNOPI
Shepard Fairey
Noa Denmon
Ernesto Yerena
Visit Amplifier's REFRAME website and download Amplifier's Augmented Reality App for Mac or Android to activate each poster, and see these icons' stories come to life!