Indigenous Peoples' Day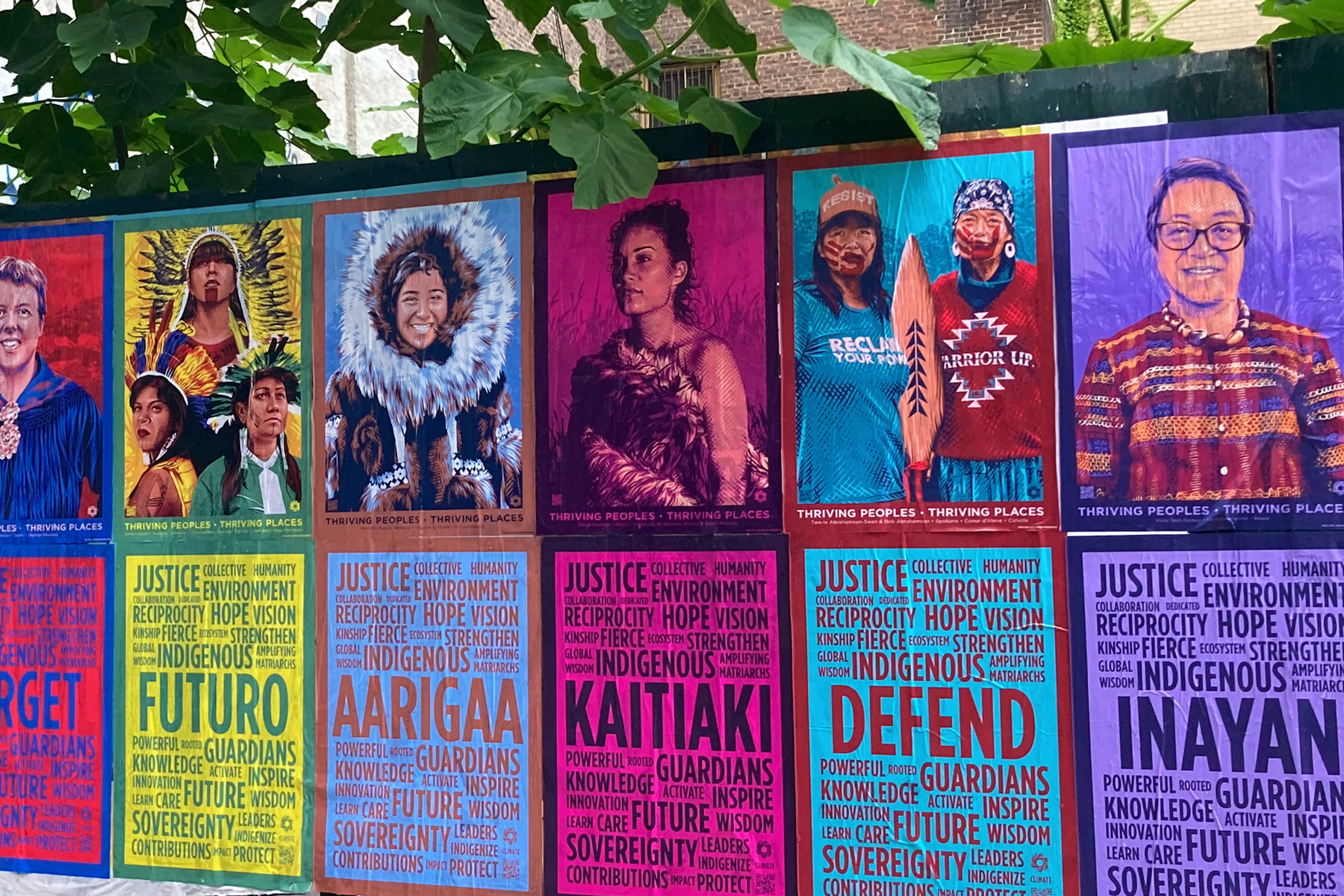 Thriving Peoples. Thriving Places.
For Indigenous peoples day 2022, Amplifier partnered with Nia Tero to launch the Thriving Peoples. Thriving Places. campaign, which built off of the first iteration of the campaign launched in 2021 on International Day of the World's Indigenous Peoples, and expanded it on Indigenous Peoples' Day 2021, as a timely reflection and embodiment of the focus of the UN Climate Change Conference of the Parties (COP26), when leadership from across the globe met with the purpose of collectively tackling climate change. This year, on Indigenous Peoples' Day 2022, we will continue to uplift Indigenous women leaders with new portraits and even more ways for you to get involved, see and share the artwork, and join us in celebrating Indigenous guardianship.
The Indigenous women activists, artists, and scholars at the heart of this campaign exemplify the ideals of guardianship, kinship, reciprocity, and wisdom. Their voices, work, and leadership benefit not only their own peoples and communities, but all of us who share this planet — which is why now, more than ever, we must celebrate them, listen to them, and most importantly, follow their lead.
This global campaign includes original portraits commissioned from Washington, D.C.-based artist and illustrator Tracie Ching (Kanaka Maoli), designed in collaboration with Cindy Chischilly (Diné). Download and share the portraits below.
Free Downloads
This work celebrates the vibrant and ever-present leadership of Indigenous women in protecting biodiversity and leading grassroots movements to drive action for the health of the planet. The Indigenous women being honored with portraits are activists, educators, and climate experts working not for personal gain but for collective thriving, rooted in their ancestral homelands across Turtle Island, Africa, and the Global South. Each carries forward traditional knowledge honoring their ancestors while shining a path for future generations.
Find Public Art and Community Giveaways near you:
The Thriving Peoples. Thriving Places. campaign is being distributed as public art stunts in cities across the globe. The public can find the work as a mural and free art giveaway at the KEXP Gathering Space in Seattle, Washington; as a billboard in Manila in the Philippines; as a hand-painted mural in Mexico City. The artwork will be available as free community art giveaways in Washington D.C. at Busboys and Poets locations, in Topanga, California at WÜM Essential Elements, in both Fairbanks and Anchorage, Alaska at Native Movement, and at Patagonia's Denver, Colorado location. The public can also find the artwork included in community street papers across the United States thanks to the International Network of Street Papers.

The Thriving Peoples. Thriving Places. campaign will also be on TikTok and on the radio! Indigenous influencers Lofanitani (Black, Klamath, Modoc, Tahlequah, and Tongan), Melemaikalani McAllister (Kanaka Māoli), and Laura Martinez (Lipan Apache) will be sharing the content, and there will be over 20 minute long radio playlist of music by Indigenous artists including The Halluci Nation (Mohawk & Cayuga), Mare Advertencia Lirika (Zapotec), Xiuhtezcatl (Mexica), Ruby Ibarra (Pinay), & Mia Kami (Tongan)! This playlist will be distributed to over 3,000 non-commercial radio stations across the U.S. and Canada.